Airfilters
---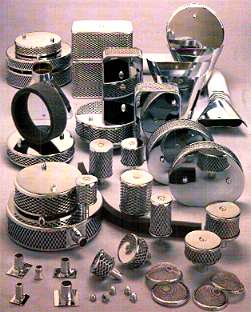 Comp filters are British made high performance air filters with a mirror like chrome finish. They are designed to permit a greater volume of air into the carburettor than is achieved with a conventional filter. Due to their compact size, they provide greater access to the engine bay. Most carburettor types are covered with over 50 different backplate designs. Replacement foam elements are available separately for all comp filters. These elements should be washed in warm soapy water every 6,000 - 10,000 miles to maintain maximum performance.
Round Filters
These come in three diameters of 135mm,160mm &190mm & four different heights of 30mm, 45mm, 62mm & 80mm.
D Shaped Filters
These are designed for closely fitting twin carburettor setups or where room is restricted. These come in one diameter size of 160mm & two different heights of 30mm & 45mm.
Rectangular Filters
These come in one overall size of 170mm x 115mm & four different heights of 45mm, 62mm, 80mm & 105mm.
---
Performance and competition air filters. These filters use an oil impregnated cotton gauze which is able to protect the engine from dust, grit & other airbourne impurities without causing any restriction to the air flow to the engine, in some cases they are able to improve engine output over standard filters. The filter come pre-oiled but the elements are cleanable which means they virtually never need replacing. Cleaning fluid and oil to re-lubricate are available.
The product range is too vast to list so contact us with make, model & year of your car.
---
JR
JR Filters provide performance replacement filters. The range covers standard replacement elements using the original air filter housing and complete direct performance replacements. All filters permit a much higher air flow than standard filters which can help to improve your cars performance. The range is too vast to list so contact us with the make, model & year of your car.
---
Sprint
The sprint range of air filters feature a paper element in a black plastic housing. They are available in a wide range of shapes & sizes, making them very suitable when space is restricted.
The 4000 & 5000 series base plates can be cut to fit any carburettor top cover. These filters are used in weber direct replacement kits. Sprint filters are also available for rectangular applications where being used with DCOE, IDF & DCNF either singly or in pairs.
---

Gower & Lee
P.O.Box 91, Bushey, Watford, WD23 2ZG.
e-mail:sales@gowerandlee.co.uk
Tel/Fax:+44 (0)1923 247300